Course Build - Updates
August 2021
Construction of the new 18th hole is now completed and seeded and the grow in process is underway. With the warm weather and the sprinkler system running like clockwork, the grass has soon started to grow.
The lake between the 1st and 9th has been lined, and the 1st green constructed. Top soil has been applied to both holes and it is truely incredible to see what was once a flat field is now shaped with impressive undulations.
July 2021
The new holes are really taking shape with the final top soil being meticulously applied giving great detail of how the hole will finally look. The 1st tee levels have been created with top soil surrounds going on. The practice putting green is now ready and it's huge! and excitement is building for the 18th lake as the liner is going in. There has been alot of intricate work going on on the 18th to manage where the water goes, especially from an underground river.
June 2021
New 18th and 9th greens are nearing completion with drainage and irrigation installed and the complex layers which make up USGA spec greens are in place. You can really see the detail of contours within the greens.
The lake between the new 1st green and 9th tee is quite literally taking shape and it's BIG! It will be a great feature to the opening hole.
May 2021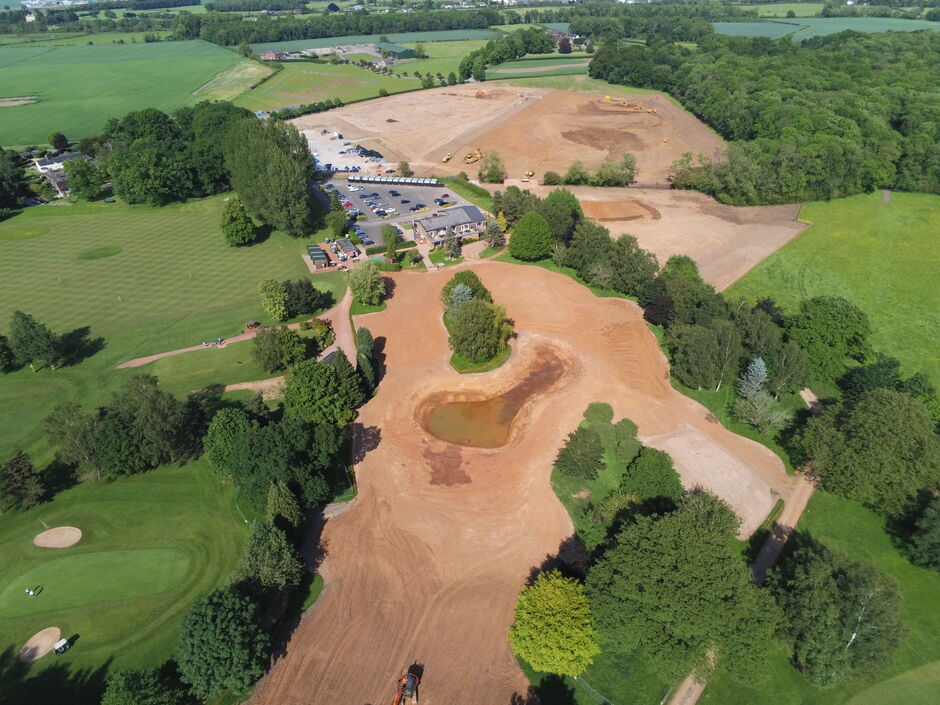 Work is well underway constructing the new hole1, hole 9 and the redesigned 18th hole. The 18th levels are taking shape with the elevated tee area, large lake dug and new green shape pegged out. Things are really starting to take shape and the excitement within the membership is very notable.