In 1969 Ingestre Park was suggested as a possible site for a new golf course. An 18-hole Course, designed by Mr Jiggins of F W Hawtree & Co. was constructed and the Clubhouse was built.
The Club officially became Ingestre Park Golf Club on 1st January 1978 and the Clubhouse opened the following month. Situated less than 6 miles from Stafford town centre, deep in the heart of the countryside, our parkland course is set in peaceful surroundings and offers players of all levels a splendid day's golf.
In 2013 the route for HS2 was announced and this impacted our golf course. As a result, since 2021 major course construction work has taken place. 13 new holes have been constructed to USGA type specification on surrounding land and the 5 retained holes have also been reconstructed so they are of the same standard. Extensive drainage systems have been created which are connected to a specifically designed lake system (three in total) with two of the largest lakes doubling up as irrigation reservoirs. The outcome of which means that our course will be playable longer throughout the year.
In April 2023, 3 of our new holes (1,9 and 18) opened. The first to play these holes were Phil James and Paul Moseley (pictured on the 9th green). Member feedback has been extremely positive "very impressed", "very enjoyable", "challenging" , "pleased how dry it was" and "can't wait to play it again".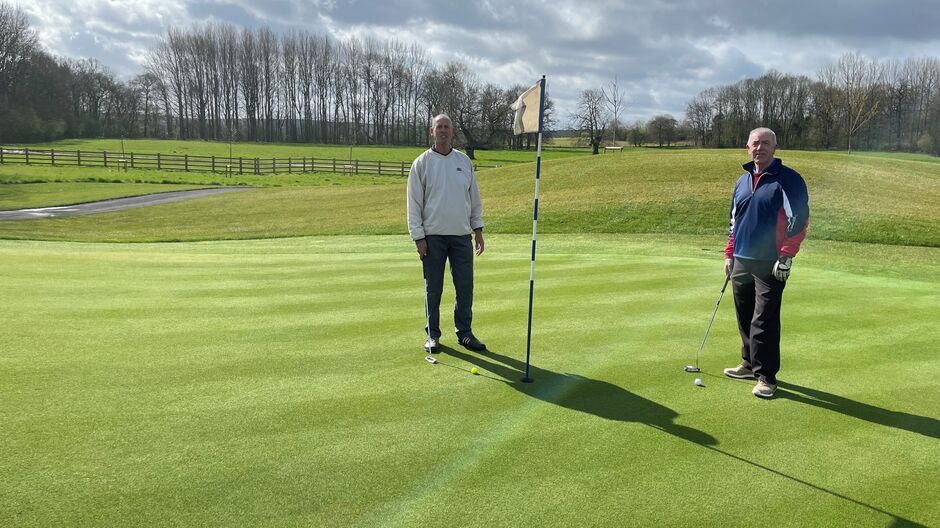 This project is very special indeed and has brought together the very best teams and companies in the industry to create, what will be, an unquestionably exceptional golf course at Ingestre Park.
Follow us on social media to track our progress and check our "Course Status" on the home page for day to day conditions and routing information.
We also have a dedicated page to keep you up to date with the course build - click here